Gabriel

Pet Name: Gabriel
Meaning: Means "strong manjof God"

Gender: Female
Birthdate: --/02/2011
Age: 11 Months (Roughly)

Ear Type: Dumbo
Coat Variety: Standard
Section: Silvered / Marked
Colour/Group: Blue / Roan

---
About Gabriel
When I first picked up Gabriel, I was told she was a buck, so she was actually called Soner. After weeks of being in with my first male Nox, I added Aeolus to the pair, then a little while later, noticed a bit of fighting between the boys. Giving the three a brief inspection, I then realised that Soner was actually a doe in disguise and, somehow, wasn't pregnant after living with Nox for over a month. So I moved her in with Aoide and Titch. Gabriel is a very well behaved rat, who seems to get along with any other of her species. She is very accepting and thus far, has been very good when it comes to human interaction. Although she isn't too keen on being picked up, she likes to wander out of her cage and climb whenever she can get to. Even though most would consider Gabriel to be a masculine name, I actually renamed after a favoured film character - Archangel Gabriel - because of her gender trickery. In the film 'Costantine' the Archangel Gabriel is androgynous and having now assumed both genders for a short period of time, I felt it suited.
Breeding & Litter Record
Gabriel x ???? =



© Anesidora Rattery (J.Dobson & R.McLeish) 2011-2012

Powered by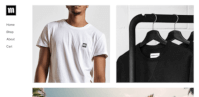 Create your own unique website with customizable templates.