Morgana

Pet Name: Morgana
Meaning: From the Old Welsh masculine name Morcant, which was possibly derived from Welsh mor "sea" and cant "circle"

Gender: Female
Birthdate: --/01/2011
Age: 8 Months (Roughly)

Ear Type: Top Eared
Variety: Standard
Section: Marked
Colour/Group: Black / Bareback

---
About Morgana
Morgana is the old woman of the group. Out of all the rats, she has to be the grumpiest and the shyest. She will come out of her hiding place to peek at what's going on, but at any sign of movement, she goes back to hide in her bed. She also isn't one for exploring much. While her sister Nimueh likes to come out to wander, she prefers to stay put if she's not entirely sure of anything. I adopted both Morgana and Nimueh from a family whose children we no longer interested in the pair, so they came to me at roughly six months of age, hence why I am unsure of both girls' birthdates. Having not had them for their youth, I'm finding both girls a little difficult to train, but with slow and steady reassurance, the sisters are getting there.
Breeding & Litter Record
Morgana x ???? =



© Anesidora Rattery (J.Dobson & R.McLeish)

Powered by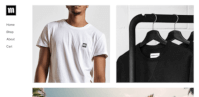 Create your own unique website with customizable templates.