Nox

Pet Name: Nox
Meaning: Means "night" in Latin

Gender: Male
Birthdate: 29/03/2011
Age: 3 Months (Roughly)

Ear Type: Top Eared
Variety: Standard
Section: Self
Colour/Group: Black / Berkshire
---
About Nox
Nox was bought from the same breeder that gave us Pan, Una and Lux. He my our first buck (certainly my only planned one originally) and now he is also the largest buck. Although still growing, he is definitely the dominant male in his cage (which isn't surprising since his competition is only little Aeolus) and the biggest in the gang. Nox was a little unsociable when he first came to me, but after steady progress and a little help from Pan, he is now growing the confidence to climb out of his cage and greet me, as well as allowing himself to be stroked for a few moments, before moving away. He has escaped once before and Ifound him wandering over the book case that sits behind his cage, but he fortunately didn't go too far. His social skills with other rats are fine, and he only has the odd tussle with Aeolus to show he's the boss. All in all, he's a good little boy.
Breeding & Litters Record
Nox x ???? =



© Anesidora Rattery (J.Dobson & R.McLeish)
Powered by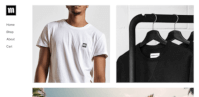 Create your own unique website with customizable templates.