Remmy

Pet Name: Remmy
Meaning: Derived from Latin remigis "oarsman"

Gender: Female
Birthdate: 10/12/2011 (Roughly)
Age: 3 Months (Roughly)

Ear Type: Top Eared
Variety: Standard
Section: Marked
Colour/Group: Blue/Hooded

---
About Remmy
Remmy was bought on the 7th of January 2012 and was the first new rat to come to Anesidora in 2012. She was bought at a local pet shop to save her from being sold as snake food and caught my eye from the moment I stepped in the shop. She was four weeks old when I picked her up, which was far too early to be away from her mother. From the first night, I was bottle feeding her with warm baby's milk to allow her to grow. Coincidentally, I had been watching 'Ratatouille' the previous night and had said to my partner that I wanted a rat like Remy, since I'd never had a blue (and I wanted to train it to cook!) which is where Remmy's name came from.

Breeding & Litter Record
Remmy x ???? =



© Anesidora Rattery (J.Dobson & R.McLeish) 2011-2012

Powered by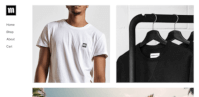 Create your own unique website with customizable templates.